RS Collection
Long days in the water are a lot more doable when you stay dry and comfortable all day long. The RS Collection offers you unequalled protection, comfort, and durability.
Fly fishing is not an extreme sport, but it does attract people who push the boundaries of possibility. We build the RS Collection for anglers who need gear that will keep them dry, comfortable, and on the water regardless of the weather—step after step, cast after cast, day after day, season after season.  If your fishing demands more than your outerwear can handle, we made this gear for you.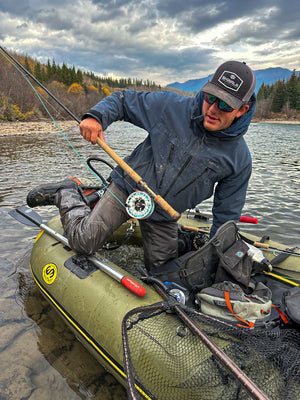 Purpose Built
The RS Collection was carefully constructed as a system comprised of a full-zip wader and full-length jacket to keep you dry in the harshest conditions. Assembled using the most advanced materials and a well-considered design approach; we made a system that can handle whatever you dish out.
Confront the storm
Heavy duty fly fishing gear tends to be rigid and stiff making moving around and casting a chore. Using advanced articulation designs, the RS Collection keeps you protected from the outside without restricting your mobility or comfort. With this wader and jacket combo, you'll wonder why everyone else is going to the tropics this time of year.