Thermo Collection
Sheep don't get cold, and neither should you.
Fly anglers embrace nature and technology. We cast PVC coated fly lines with split-cane bamboo rods (sometimes), and genetically engineer chickens to grow perfect, long-lashed hackle. Skwala's Thermo Collection harnesses that same balance to create the softest, warmest, most-breathable Merino you've ever worn. We use only the longest, hand-selected raw wool fibers from New Zealand sheep for maximum insulation, minimum water absorption, and luxurious feel. That wool is meticulously spun, woven, and combined with just enough synthetic fiber to stretch and move with you.
Technical by Nature
Humans can't make insulation better than the one sheep grow. We've tried, but Merino wool outperforms synthetic materials for comfort, heat retention, moisture-wicking, and odor resistence. Instead of trying to one-up nature, we're working with it. Grown by sheep, perfected by technology, our Thermo Collection starts with the highest quality, hand-selected New Zealand wool. We send that wool to Germany where it gets blended with just enough sythetics to create the perfect stretch and woven into yarn. We use that yarn to make our durable, ultra-comfortable Thermo Collection.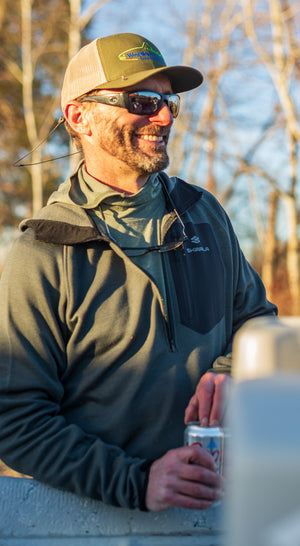 Better than Cotton
Wearing cotton layers is kind of like fishing a Durham Ranger on your favorite trout river. Just because something's a classic, doesn't make it effective. Our Thermo Collection is built from the highest quality Merino wool to keep you warm on even the coldest days while naturally wicking moisture away from the body. Merino also naturally resists odor, so when you're on day 4 of that week-long trip, your buddies won't complain about the smell.