Our Carbon fly fishing waders are designed to get you where most anglers can't or won't go. With a minimalist approach that reduces weight and bulk without sacrificing durability; a buckle-less, load distributing shoulder yoke; a magnetic, drop down upper for easy conversion from chest-high to waist-high; and an athletic cut with fourchette leg seams, Carbon Waders feel more like your favorite pair of pants than waders. If you travel across the globe, or just higher up your local creek than most are willing to venture, the Carbon Wader will make sure you arrive dry and comfortable.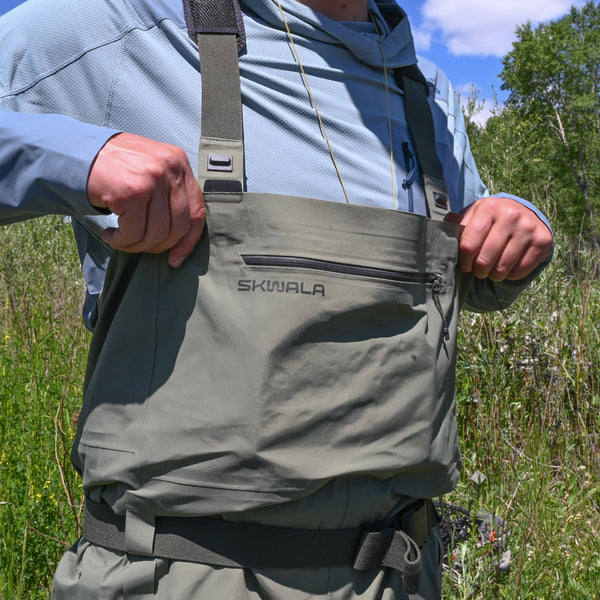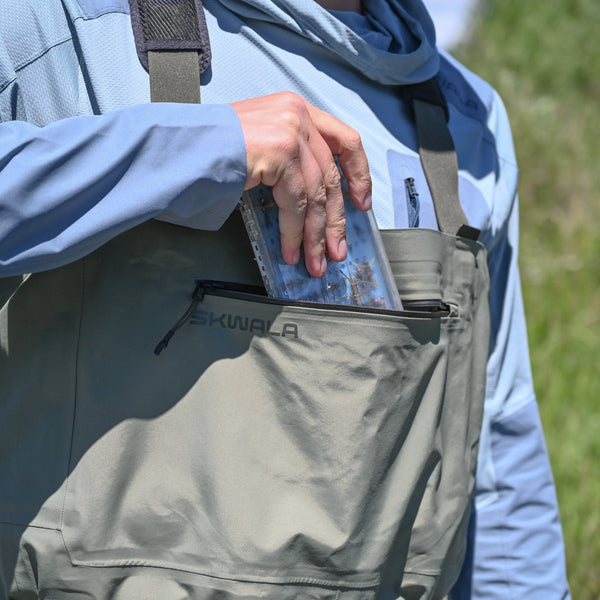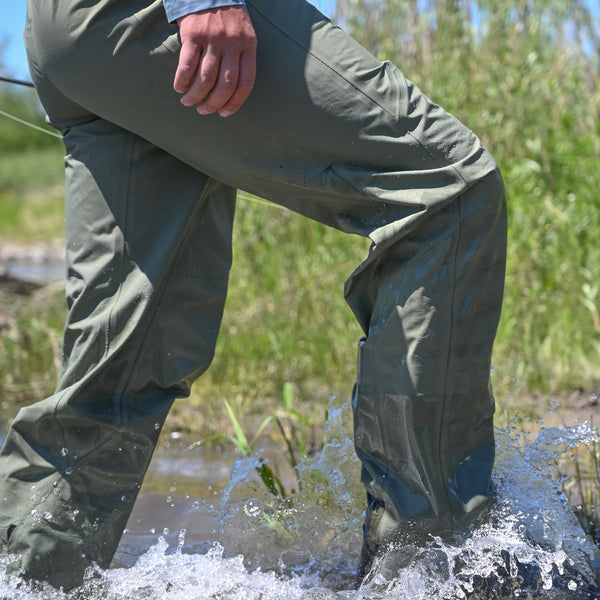 Product Specs
• Weight: 40.9 oz - Large
• Textile: 4-Layer waterproof/breathable laminate with C6 DWR finishing // High-density 100% nylon woven face textile // Anti-microbial treatment on interior scrim layer
• Stockingfoot Bootie: 4mm neoprene laminated with 100% nylon jersey on interior and exterior of bootie. Interior Jersey lining is enhanced with an anti-microbial finish. Sole Panel utilizes Spandura® Yarns in an abrasion resistant knit structure.
• Zippers: Exterior YKK Aquaguard® zippered cargo pocket

Size Guide
Waders
Size
Chest
Waist
Inseam
Shoe Size
Medium Short
37-40"
32-34"
28-31"
9-11
Medium
37-40"
32-34"
31-33"
9-11
Medium Tall
37-40"
32-34"
34-36"
9-11
Large Short
41-44"
35-38"
28-31"
9-11
Large
41-44"
35-38"
31-33"
9-11, 12-14
Large Tall
41-44"
35-38"
34-36"
9-11, 12-14
Extra Large Short
45-48"
39-42"
28-31"
9-11
Extra Large
45-48"
39-42"
31-33"
9-11, 12-14
Extra Large Tall
45-48"
39-42"
34-36"
9-11, 12-14
Double Extra Large
49-52"
43-46"
31-33"
12-14
Light & Fast
Your fishing gear shouldn't slow you down. We designed and developed the Carbon Collection as a system featuring a full-length jacket paired with a lightweight convertible wader. Lightweight, waterproof textiles finished with highly breathable laminates are implemented to provide protection from the elements for your pursuits in warmer environments. The Carbon Collection was made for the variable days in the season when the forecast goes from warm to wild.
Unmatched Breathability & Comfort
Using cutting-edge textiles and design to maximize comfort and flexibility we crafted the Carbon Wader. An ultra-dense 100% nylon face textile built for increased durability and smooth comfort is finished with a 4-layer waterproof/breathable laminate for unmatched breathability and a fully submersible textile. No matter how far you go to find the fish you're after, the Carbon Waders will get you there.
Advanced shoulder harness is constructed with a heat-set and anatomically patterned shoulder yoke for optimum fit and comfort. Shoulder straps are low profile and buckle-less by utilizing concealed G-hooks for reduced bulk and easy adjustment.
Innovative drop-top feature utilizes magnetic attachments to allow simple and sleek conversion to waist-high waders.
Articulated fourchette leg patterning provides excellent fit and enhanced mobility.
Anatomically patterned booties feature fully glued and taped 4mm neoprene with an abrasion resistant sole panel for comfort, and protection. Interior neoprene is lined with an anti-microbial jersey fabric to help reduce bacteria and odor build up.
Unboxing and Initial Setup
Your new waders have arrived . . . what now?